Jostaberries
Excellent for eating fresh, for pies and jellies.
Cross between a gooseberry and a black currant. Thorn- free, vigorous, and disease resistant. High in vitamin C.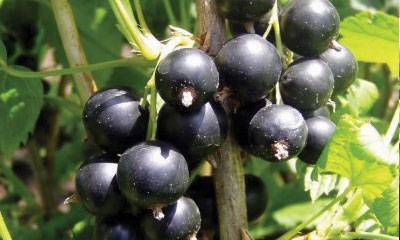 Jostaberry
A cross between a gooseberry and a black currant. Thorn-free, vigorous and disease resistant. Large clusters of fruit that are high in vitamin C.Use for fresh eating, juice or jams and jellies. Ripens in July. PROHIBITED IN SOME AREAS. CHECK WITH YOUR LOCAL DEPT. OF AGRICULTURE BEFORE ORDERING.(zone 4-7)
Price Per Plant
Per 10
Per 25
Per 100

8in to 12in

SOLD OUT

12in to 18in

SOLD OUT

18in to 24in

SOLD OUT

over 24in

SOLD OUT
---
Plant Details:
Remove Jostaberry plants from shipping box immediately. Store Jostaberry plants in a cool moist place and untie the bundles. Keep roots moist at all times. Do not over water.
WE DO NOT RECOMMEND MULCHING AROUND OUR PLANTS or fertilizing plants until after roots are established.
Requires a soil pH of 6 to 7.5. Plants will grow in any well-drained soil.
Plant deep enough to accommodate the roots without crowding them. Plants should be spaced 3'– 6' apart. Press soil firmly around the roots and water well. Water regularly. Do not over water. Do not trim roots.
Fall or Early spring (April-May)